ELECTRONIC COMMUNICATIONS, INC.
A TELECOMMUNICATIONS COMPANY
APPLICATION NOTES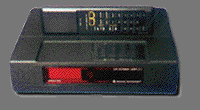 Jerrold 400 Cable Converter Problems
The most common symptoms for these cable boxes relate to their not staying
on or acting erratically when the buttons are pressed. The causes are usually quite simple:
1. Cold solder joints around the power supply regulator ICs (on chassis
heat sink).
2. Dried up main filter capacitors - two large electrolytics in power supply
on main board.
Be careful disassembling the main board from the chassis as at least one of
the regulator ICs clipped to the side of the chassis is insulated from this
heatsink and the insulation is easily damaged.
ECI has years of experience in many applications of repair and service, and you
will feel confident in ours skills to meet any challenge .